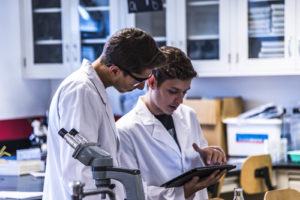 In the history of mankind, there have been many great scientists, those who have changed the way we live and think.
Successful scientists are obviously an expert in their field. However, knowledge alone doesn't make one a great scientist. If you are currently in school and aspire to become a scientist, you would do well to remember this point.
However, don't misunderstand. No one is saying that knowledge is not important because nothing can be farther from the truth. Knowledge is paramount. All great scientists were best in their field. And that's what you will also have to do. Explore every avenue to hone your knowledge. For instance, if physics is your expertise area, don't just limit yourself to classroom training. Explore physics tuition Singapore also, where you'll get one-to-one training.
At the same time, remember you will need something extra, something beyond knowledge to excel as a scientist. What's that, you may ask.
Well, when you look at it, great scientists have some great habits. You must make a conscientious effort to cultivate those habits in you.
#1 – Take full charge of your bench
'Your project' is quite a loaded word. It means you must own it fully. Successful scientists proactively develop hypotheses, test ideas, and conduct experiments on their own.
They don't rely on someone else to tell them this or that is what they should do. If you rather wait for instructions than taking charge of the things yourself, you are probably in the wrong field. A clerical job with its tight do's and don'ts and demarcation of duties might be more suitable to you.
#2 – Set a goal before you begin
What's the need of setting a goal? Well, research shows we are more likely to be successful students when we define what we want.
A few things must be kept in mind here. One, your goal should be definite and realistic. Two, you must have a timeframe in mind in which you want to achieve the goal. A goal without a timeline is nothing more than wishful thinking and the only purpose wishful thinking achieves is killing time, nothing more.
Three, write your goal—and post it where you can see, the more the better. This will help you stay focus.
#3 – Prioritize
You can have both short-term and long-term goals and at any point in time, you can have multiple goals. So, how do you decide which one you should approach first? Or approaching all of them at the same time is a good idea?
This is where prioritizing come to the picture. Write down all your goals and then see which ones require your immediate attention or which ones are more important than others.
For instance, if your one long-term goal is to 'get a tenured position' but you are currently in college, you should give greater priority to getting into a top-ranking school, for which you might need JC Physics Tuition classes to give you an edge over the others. Remember what we said earlier about great scientists taking things in their hands and doing everything they need to do to achieve their goal.